Man jailed for Belfast City Hospital burglary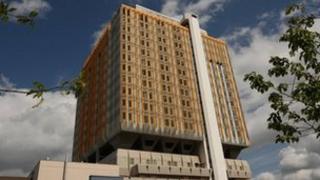 A man with more than 200 criminal convictions has been jailed for eight months for stealing personal items from staff members at Belfast City Hospital.
Belfast Crown Court heard that Kenneth Edward James McIntyre was "out of his head" on diazepam and steroids at the time.
He admitted two counts of burglary over the incident in February of this year.
McIntyre's DNA was found on a can of Coke he left at the scene and he was also captured on the hospital's CCTV.
A Crown prosecutor told the judge that a staff member arrived at the main reception area around 07:30 GMT on 21 February, where she discovered the drawers of her desk open and the contents on the floor.
A mobile phone, jewellery and a small amount of money were missing.
A second member of staff arrived at work in the physiotherapy department at 08.45 GMT and was greeted with a "similar scenario", with another small amount of money missing.
'Going through a bad patch'
The prosecutor said McIntyre, whose address was given as HMP Maghaberry, was linked to the scene via swabs taken from the can of Coke, which matched his DNA.
He was also caught on CCTV from around 04:30 GMT "climbing over the counter in the reception area" and again in the physiotherapy department "trying door handles".
McIntyre was interviewed in May, telling police he could not remember the incident as he was "going through a bad patch".
A defence barrister said his client initially went to the hospital for treatment to an injury, adding it was "never his intention to burgle it".
Saying McIntyre was "under an awful lot of pressure at the time", the barrister said his client was "out of his head" on drugs.
Sentencing McIntyre to eight months, the judge told him that hospital workers were under enough pressure, without having to worry about people stealing from them.