Irish health service apologies over Dhara Kivlehan's death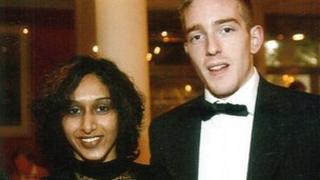 The Irish Health Service Executive has apologised to the family of a woman who died after giving birth at Sligo General Hospital three years ago.
In 2010, Dhara Kivlehan, 29, became ill with pre-eclampsia and a related condition.
The Irish High Court heard she did not receive appropriate specialist medical treatment after suffering organ failure in Sligo.
She was transferred to Belfast's Royal Victoria Hospital where she later died.
In court on Tuesday, the judge approved a settlement of the action for 790,000 euros (£653,000).
The court heard that Dhara and her husband, Michael, had been expecting their first child in September 2010.
She was admitted to hospital two weeks overdue on 20 September 2010 for the delivery of her first child, Dior.
It was claimed that blood tests taken at the time that showed grossly abnormal liver and kidney function. But these were not communicated to doctors until some some 12 hours later.
After giving birth to her son, she was treated in a side room for a day and a half.
Midwives later tracked down blood test results and she was admitted to the intensive care unit in Sligo, but her condition deteriorated and she was airlifted to Belfast where she died four days later.
The family accepted that everything had been done for her in Belfast but claimed her treatment in Sligo was "in marked contrast".
Outside the court, her husband Michael said there were many unanswered questions surrounding his wife's death and he repeated calls for an inquest to be held in the Republic of Ireland.
He said the family was "heartbroken" that their calls for an inquest in the Republic of Ireland had been declined.
It is understood that an inquest will be held in Northern Ireland, however witnesses could not be compelled to attend.
The family plan to take further legal action challenging the refusal of the Irish authorities to hold an inquest.