Pisa tests: NI pupils outshone in global schools comparison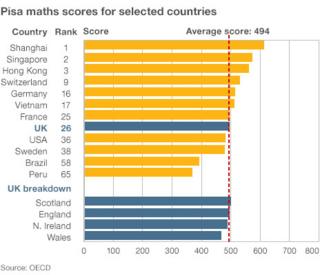 Fifteen-year-olds in Northern Ireland are being outperformed in international tests in maths, reading and science.
While their performance in the Pisa tests run by the OECD think tank has shown little change, other countries have improved.
The biggest problem is in maths, and the Department of Education said these challenges needed to be faced.
It said that while improvements to the curriculum had been introduced, this was too soon to have had a impact.
The Pisa tests - the Programme for International Student Assessment - have become the most influential rankings in international education, based on tests taken by more than 500,000 secondary school pupils.
These measure education standards in Europe, North and South America, Australasia and parts of the Middle East and Asia.
As a whole, the UK has made little progress and remains among the average, middle-ranking countries, in 26th place for maths and 23rd for reading, broadly similar to three years ago.
But the UK has slipped in science from 16th to 21st place.
Within the UK, Scotland has performed slightly better than England in maths and reading, with England higher for science. Northern Ireland is behind them both across all subjects.
But the biggest gap is between Wales and the other parts of the UK, adrift from most of the middle-ranking western countries.
The Republic of Ireland has improved in the three years since the last survey, and now greatly outperforms Northern Ireland in maths, reading and science.
'Room for improvement'
Northern Ireland Education Minister John O'Dowd said the survey was "a useful indicator of the state of our education system", containing "many positives".
"However, the report also confirms what we already knew - that our education system at post-primary level has much room for improvement," he said.
"Indeed, I have been on record as saying that we need to address the challenges in post-primary education and I believe we can and must make the necessary improvements to ensure all children can fulfil their potential.
"The Pisa report shows that too many 15-year-olds are performing at the lowest levels in these key subject areas.
"It also delivers a clear challenge to those who claim our education system delivers academic excellence. In maths, for example, only 10.3% of our 15 year olds are performing at the highest level. This lags behind the OECD average and well below the attainment level in some countries."
In mathematics, the performance of pupils in Northern Ireland was not significantly different to 2009:
Northern Ireland pupils achieved a mean score of 487; Shanghai in China, the world's top performing education system, scored 613
With a number of countries improving their performance, the NI score was below the OECD average
The gap between the highest and lowest scores is similar to the OECD average. However, Northern Ireland had a higher proportion of students at the lowest level of mathematical proficiency
There was no significant gender gap in Northern Ireland; of the other 64 countries, 41 had a difference in performance in mathematics by gender and this tended to be in favour of boys
Socio-economic background has a larger effect on pupil attainment in Northern Ireland than on average across the OECD countries.
In reading, Northern Ireland's performance was down one point on 2009:
The score of 498 was slightly higher than the OECD average of 496; Shanghai again came top with 570, a score equivalent of three years' schooling above the OECD average
Although Northern Ireland has a relatively large difference between the lowest and highest score points compared with many other countries, the proportion of pupils at each level of achievement is broadly similar to the OECD average
Northern Ireland had a similar pattern to the OECD in terms of the difference between high and low achieving pupils, although almost two-thirds of the OECD countries had a smaller difference between the highest and lowest percentiles
As with all countries, girls significantly outperformed boys in reading.
In science, Northern Ireland came 18th in the international league table:
Northern Ireland pupils achieved a score of 507, which is similar to 2009 (511) and not statistically different to the OECD average of 501
The gap in achievement between the lowest and highest scoring pupils in science was large, with only eight countries having wider distribution
There was no statistically significant difference between boys and girls, in comparison to the OECD average, which shows a statistically significant gender difference in favour of boys by one score point.