Dr Richard Haass raises idea of potential new NI flag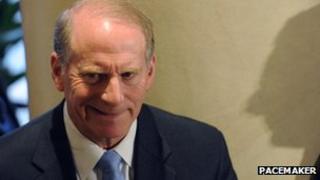 The man chairing political talks in Northern Ireland has asked the five main Stormont parties for their views on a potential new NI flag.
Dr Richard Haass also inquired about what criteria a parading body should consider in making its adjudications.
They are among 10 questions and topics raised in a letter to the parties' negotiators.
Dr Haass is chairing talks in an attempt to find a consensus on parades, flags and dealing with the past.
In the letter, the former US diplomat asked: "What might a process to design and validate a new Northern Ireland flag look like? What role might such a flag play in civic life?"
He also asked for views on "a code of conduct for flags and emblems displayed unofficially in public spaces".
Pose questions
Dr Haass queried "where, if at all, should such flags be allowed and under what circumstances? How, if at all, might enforcement measures or consequences for breaches be included?"
In a covering letter, Dr Haass pointed out that the 10 questions and topics he is raising "do not suggest or reflect the totality of our thinking on these issues or the range of issues we intend to raise when we return in December".
Besides flags, the Haass talks team also posed questions about the other talks issues of parades and the past.
On the past, Dr Haass asked if the existing bodies or processes dealing with the past, such as the Police Historical Enquiries Team, historic investigations by the Police Ombudsman, inquests and inquiries, might "be reformed, combined or otherwise improved".
A further question asked "what potential reforms might be implemented to ensure victims and survivors have sufficient access to payments and services to meet their needs?"
Revised code
On parades and protests, the Haass team asked what a revised code of conduct on parading might include "to encourage respectful behaviour from all those involved in parades, bands and protests?"
Finally, Dr Haass asked "how might the political independence of a reformed Parades Commission or new parading body be established and maintained?
"For example, what might the nomination or selection process look like for sitting members of such a body and what, if any, association should it have with governmental institutions?"
The negotiators for the parties are currently discussing the make up of working groups, ahead of the return of Dr Haass to Belfast next week.
Dr Haass's letter asked for a response from the politicians to his questions by the close of business in Belfast on Wednesday 4 December.
He has set a deadline of the end of the year to try and resolve the issues.