Titanic building architects Todd buy Belfast firm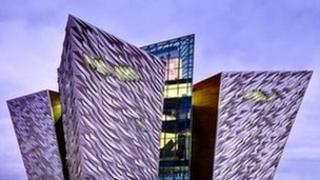 The architects who designed the Titanic Building have bought another Belfast architects firm.
Todd architects have bought McAlister Armstrong & Partners, (MAP) and their staff will be retaining their name but joining the Todd offices in the city's Titanic quarter.
McAlister Armstrong & Partners were the designers of the original Belfast International Airport 50 years ago.
They have continued to specialise in airport projects.
They are responsible for both new-build and refurbishment projects at London Luton, Shannon, Bristol, Cardiff, and Dublin airports.
Todd architects currently employ about 40 people.
At one stage, McAlister, Armstrong & Partners employed a similar number, but now staff numbers amount to just seven.
Peter Minnis, director of Todd's, said: "It has been very challenging in Northern Ireland and we have managed to survive that and we're looking to expand again. MAP has specialisation in airport design which is something we're very interested in."
Todd architects are currently working on plans for a major extension to Belfast's Waterfront Hall.