One year on - no flag and no protesters at council meeting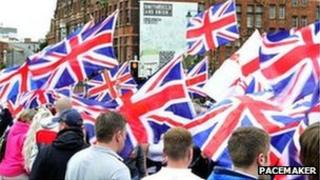 If a week is a long time in politics, at Belfast City Hall a year is an eternity.
Twelve months ago, at its December meeting the council took its most controversial decision.
The union flag would no longer fly above the city hall 365 days a year. Cue a year of mayhem, recrimination and protest.
So when councillors met again for their December meeting, one year on, there was some trepidation.
A much larger than usual police presence at the back of the building was a give-away.
Inside, security staff appeared more twitchy than normal.
But 10 minutes to the planned 18:00 GMT start where were the councillors who have been metaphorically at each others' throats ever since?
Sitting down together enjoying turkey, roast potatoes and sprouts. They were having their Christmas dinner.
It kind of set the tone for what was to follow.
There was one brief unionist/nationalist disagreement over the decision to set up a statutory transition committee which will pave the way for a new super council.
There was also mention of International Women's Day.
But there was not a single flag protester in sight - inside or out.
And most surprising of all not a single mention of the union flag which no longer flies so often atop the city hall.
There was, however, a union flag. It was being worn like a scarf around the neck of one of the DUP's more colourful council members, Alderman Ruth Patterson.
No-one mentioned it.
And within an hour the meeting was over; one of the quickest in memory.
A council staff member said the only meeting he could remember that was more brief was a few years ago, on a night when Liverpool were in a Champions League final.
On the way out, I asked a unionist councillor why there had been no mention of the flag?
"We've moved on", he said, before quickly thinking better of it and emphasising the fight to overturn the decision was certainly not over.
Not that anyone thinks it is.
But at the December 2013 meeting of Belfast City Council fighting was the last thing on anyone's mind.