Glasgow helicopter crash: NI politicians unite in sympathy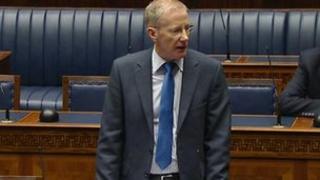 Politicians in Northern Ireland have united in sympathy for the victims of the Glasgow helicopter crash.
Nine people are known to have died when a police helicopter crashed into the Clutha pub on Friday evening.
DUP MLA Gregory Campbell led the tributes at Stormont on Monday.
He called it a "tragedy of immense proportions", while Caitriona Ruane of Sinn Féin said "we are thinking about the families of the people who have suffered and who continue to suffer".
Mr Campbell added: "Scotland was preparing to celebrate its national day, St Andrew's Day, and it would appear now the day for some years to come will be a day of mourning rather than a day of celebration."
SDLP leader Alasdair McDonnell spoke of the "close bond between the people of Ireland and Scotland, and indeed between the people of Belfast and Glasgow".
He said his party would send a letter of condolence to Scotland's First Minister Alex Salmond.
UUP MLA Robin Swann said: "An incident like this and a time like this reminds us all really of the fragility of life and how quick it can be taken away."
Justice Minister David Ford, the leader of the Alliance party, paid tribute to the emergency and public services in Glasgow, and said the Police Service of Northern Ireland (PSNI) was ready to offer assistance if they needed back-up or additional resources.