Review 'to improve Northern Ireland rates collection'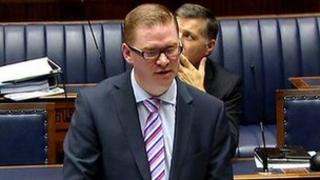 Finance Minister Simon Hamilton has said he wants to improve the rates collection system in Northern Ireland.
He has ordered a "short, focused review" of the Land and Property Services (LPS), but said the body is not under threat.
Last year it collected £1.1bn, despite more ratepayers struggling to pay in tough economic conditions.
He assured its 1,100 staff the exercise "is not a fundamental review of it as an entity".
Mr Hamilton told the assembly that LPS has increased the cash it collected by more than £125m in the last four years.
The minister wants the review, to be completed before the end of the year, to come up with "a set prioritised opportunities for improvement".
He said a number of challenges lay ahead, including changed council structures and new business rates.
"I believe LPS has the potential to be a leading collection agency," he said.
The move was welcomed by the Sinn Féin chairman of the Stormont Finance Committee, Daithí McKay.
Mr Hamilton also said rates debt was rising and now stands at £160m. He said £29m of that had been written off.