Peter Robinson and Martin McGuinness meet Japan PM Shinzo Abe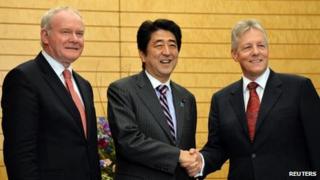 Northern Ireland's first and deputy first ministers have met the Japanese Prime Minister Shinzo Abe.
Peter Robinson and Martin McGuinness are in Japan on a four-day business mission.
It followed an invitation from Mr Abe during the G8 Summit in County Fermanagh in June.
The two leaders had an hour-long meeting with Mr Abe, which Mr McGuinness said had been "very positive".
"Forging further links with the Japanese business community, attracting new inward investment and realising greater growth and two-way business development exchanges between our two countries, is an important priority to help grow our global competitiveness," he said.
"The meeting gave us the opportunity to talk about the development of investment, cultural and educational links."
Mr Robinson said the meeting underlined the executive's commitment to "develop and strengthen our relationship with Japan".
"It was an enormous pleasure to accept the invitation from Prime Minister Abe to come to Japan to develop government to government links and explore opportunities to grow our respective economies," he said.
"This meeting has provided a valuable opportunity to promote everything great that Northern Ireland has to offer on a global scale.
"We are determined to explore all areas where we can both benefit, with a particular focus on our economy, education and cultural links."
The first and deputy first ministers' trip itinerary includes meetings with political representatives to promote trade, investment and tourism.
They will also have discussions with existing and potential investors.