Dr Kim Holt calls for independent health regulation in Northern Ireland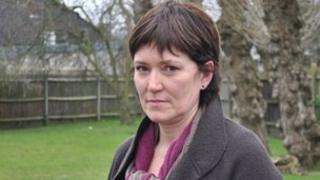 A doctor who blew the whistle on unsafe practices during the Baby P abuse scandal has said Northern Ireland needs an independent health regulator.
Dr Kim Holt made the call after another whistle-blower raised concerns about care at Cherry Tree House nursing home in Carrickfergus, County Antrim.
The NI whistle-blower, who is a former care worker at the home, claims the complaints she reported were ignored.
The NI regulator - the RQIA - responded by saying it is completely independent.
The RQIA (Regulation and Quality Improvement Authority) is an arm's length body of the Department of Health in Northern Ireland.
Last week, the BBC revealed how the Cherry Tree House whistle-blower had challenged the authorities in addressing the standard of care at the Carrickfergus home.
Among the ex-employee's allegations were that patients often were not fed if they were unable to feed themselves.
'Disillusioned'
The former care worker, who wished to remain anonymous, told the BBC that for almost eight years the owner of Cherry Tree House, the Northern Health and Social Care Trust and the RQIA ignored her claims.
The Cherry Tree House whistle-blower has now said she is so disillusioned with the response to her complaints she will never challenge the system again. The woman has described the RQIA as unfit for purpose.
"It needs to be changed and I believe the minister needs to sit down with groups like Patient First and other whistle-blowers to amend this policy, so people do feel safe to make these disclosures.
"You don't only take yourself through this, you take your family through it, you take your friends through it. People have lost their homes through this and it affects your mental health and I would not work in this profession again," the Cherry Tree House whistle-blower said.
On hearing her story, Dr Holt has said that health care staff in Northern Ireland should be able to report to someone who is completely independent of the health service.
"It's really crucial that the regulator is independent of the Department of Heath and it's clear from this story that there's a real issue in Northern Ireland," Dr Holt said.
"We're seeing the beginning of something positive in England with more independence from our regulator, so I definitely see that it would be important for Northern Ireland."
Tell-tale signs
Dr Holt was the medic who raised concerns about unsafe hospital practices at the London clinic where Peter Connolly, known as Baby P, was treated days before his death in August 2007.
The toddler died at his home in Tottenham, north London, with more than 50 injuries, despite being on a social services "at-risk" register.
Two days earlier, a locum who treated baby Peter at St Ann's community paediatric unit in Haringey, north London, missed tell-tale signs that the 17-month-old was being abused.
Baby Peter's mother, Tracey Connolly, her boyfriend Steven Barker and Barker's brother, Jason Owen, were all convicted and jailed for their role in the toddler's death.
But months before the child was examined, Dr Holt, a consultant paediatrician, had warned her managers that staff shortages and poor record-keeping at St Ann's Hospital would lead to problems.
After losing her job over the Baby P case, Dr Holt was responsible for setting up Patients First, a lobby group that aims to improve patient safety.
'Extremely courageous'
She also campaigns nationally on behalf of whistle-blowers and she said that becoming a whistle-blower can have a serious impact on a person's life.
"Personally, there is an emotional impact with high levels of stress and anxiety and it can lead to depression," Dr Holt said.
"Some people have reported that they have even felt pushed to the point of suicide.
"Professionally they risk losing their post, they are often suspended, they may go off on sick leave which then impacts on their career, even be sacked.
"And then in the wider network, there is the impact on the family and friendships, so it's actually devastating for a lot of people."
Speaking about the Cherry Tree House whistle-blower, Dr Holt said: "To persist over many years is extremely courageous and I totally understand the toll that it must have taken on her.
"It shouldn't be courageous, it should just be part of normal everyday work but at the moment, unfortunately, to blow the whistle in Northern Ireland you need to be courageous."
Meanwhile, Northern Ireland's Health Minister Edwin Poots has said that he will react if an independent review of Cherry Tree House reveals there were faults in the system.
None of the whistle-blower's allegations are connected to anyone currently working in the Carrickfergus nursing home and its management have said that they have worked hard to address concerns raised during previous RQIA inspections.