Larkin prosecutions proposal worth considering - Bishop McKeown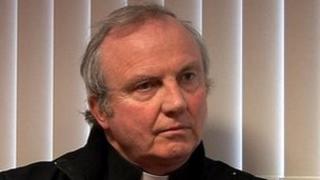 A Catholic bishop has said Attorney General John Larkin's call for an end to Troubles era prosecutions "is worth considering".
Last month, Mr Larkin said there should be no further investigations, inquests or inquiries into relevant killings before the 1998 Good Friday Agreement.
The attorney general's proposal was criticised by victims and politicians.
However, the Auxiliary Bishop of Down and Connor, Donal McKeown, said Mr Larkin had "asked a useful question".
"As we know we're in the middle of the Haass process, helping us to try and find ways to deal with flags, marches and the whole issue of a contentious, divided past," he said.
"And I think what John Larkin was saying - the only route we've gone down at present is the judicial route, trials and tribunals, inquests, and that really is not going to be the best way to enable us to get to the truth about so many deaths that have so far been unresolved.
"I know some have suggested there be a truth and reconciliation process which would essentially be amnesty connected as well. I think he's saying something slightly different, but I think we all are focussed not just on drawing a line under the past, but on finding a better way to get to the truth that will enable troubled hearts to be at peace."
'No perfect fit'
The bishop said people were searching for "the best fit in a very imperfect situation".
"I think there are so many different needs that people have, particularly when they've suffered or been bereaved or been injured. Some will feel that really, they will never find peace until they've been able to see the person who killed their loved one in court or in jail.
"Others I know simply don't even want to know any more details, because they've found a peace with the past, so there certainly is not going to be some sort of perfect fit.
"I think what John Larkin has done for us is actually raised the question - how can we get the best possible deal in the very imperfect circumstances that we have, where many people will never tell the truth about the past, because of embarrassment, because of their own inability to cope with what they've done themselves."
He said for Mr Larkin to put his proposal forward during the Haass talks was "very laudable".