Man charged with assaulting police officer during loyalist parade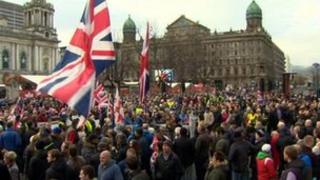 A man has been charged with assaulting a police officer during a loyalist protest march in Belfast.
Two police officers were injured - one of them knocked unconscious - during Saturday's demonstration.
They were hurt at the junction of Tennent Street and Crumlin Road as they blocked protesters who had left the designated route.
The man, 35, has been charged with assault occasioning actual bodily harm and is due in court on 23 December.
An estimated 1,500 demonstrators took part in Saturday's protest parade, which was organised by a group calling itself the Loyalist Peaceful Protesters.
The reasons they stated for the parade were "human rights", "political policing" and "PSNI brutality".
The marchers breached a ruling by the Parades Commission that had instructed protesters to leave the Belfast City Hall area by noon.
The parade began an hour late, but otherwise passed through the city centre without incident.