Armagh's Georgian Day: More than 20,000 people attend celebrations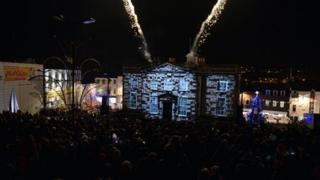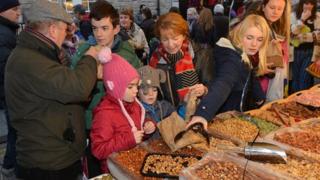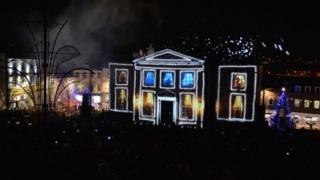 Armagh city has celebrated its 18th century heritage by hosting its 10th annual Georgian Day event.
Organisers said more than 20,000 people attended Saturday's celebrations.
It featured music, carol singing and a traditional Georgian Christmas market. The event culminated in a light show in the city centre on Saturday night.
Residents and visitors were given an insight into Armagh's rich history as the organisers tried to recreate scenes from the bygone era.
Participants posed as Georgian gentry, promenading the streets in authentic costumes, while horse-drawn carriage rides were on offer on the city's mall.
More than 70 market stalls were set up for the event
Armagh's Lord Mayor, Robert Turner, said: "Georgian Day is a fantastic way to start the countdown to Christmas, as well as learning a little more about one of Ireland's oldest cities.
"This annual event has grown in popularity and size each year and we pride ourselves in welcoming new and returning visitors at each Georgian Day.
Armagh's Georgian architecture provided the backdrop for the light show in Market Street.
St Patrick's Church of Ireland Cathedral also hosted classical and folk concerts as part of the celebrations.
Armagh has two cathedrals and is the ecclesiastical capital of Ireland.