Spotlight allegations: Attorney General John Larkin will not disclose Robinson legal advice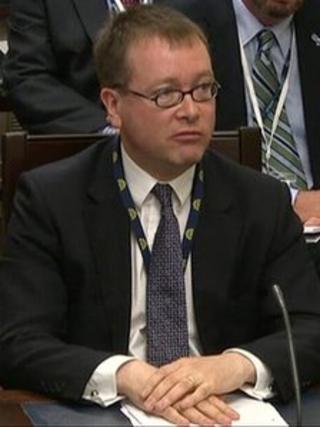 Northern Ireland's top law officer has said he is unable to disclose the legal advice he gave to the first minister following a BBC Spotlight programme.
The programme contained allegations of political interference in the running of the NI Housing Executive.
First Minister Peter Robinson commented about the legal advice in a newspaper.
But Attorney General John Larkin would not disclose it, citing a long-standing convention around confidentiality when a law officer is advising a government.
Mr Larkin was responding to a letter from the Traditional Unionist Voice (TUV) party leader, Jim Allister.
The TUV leader wanted to know what legal advice Mr Larkin had given to the first minister about allegations made in the Spotlight programme, broadcast in July, about the east Belfast housing maintenance company, Red Sky.
'Vindicating'
The first minister had threatened to sue the BBC over the allegations.
But last month Mr Robinson told a Belfast newspaper, The News Letter, there was no need to sue, claiming that the attorney general had given him a very clear legal opinion vindicating him and indicating the BBC was completely wrong.
Mr Allister wrote to the attorney general on 25 November asking for details of the legal advice. The TUV leader enclosed a copy of the News Letter article with his letter to Mr Larkin.
The attorney general wrote back on 28 November, telling Mr Allister that due to convention it would not be appropriate for him to disclose the legal advice or answer other questions.
Mr Larkin did refer to the newspaper cutting. He noted it contained "an apparent reference to my advice by the first minister, which on its face would appear to be a breach of this convention".
'Challenge'
The letter also stated: "Be that as it may, I hope that you will understand it would not be appropriate for me to answer your detailed questions as to do so would represent a further encroachment into impermissible territory."
Mr Allister told the BBC that he believes that after Mr Robinson's remarks to the News Letter, the legal advice should be published.
"I think that once the first minister has relinquished the confidentiality then his hands aren't tied and the advice should be released. And that would be the challenge - that we should all see what it is the first minister claims he has been vindicated about over the BBC programme."
Mr Allister has now tabled other questions in the Northern Ireland Assembly on the issue.
These include whether or not the legal advice was jointly sought by the first and deputy first ministers.
A DUP spokesman said: "The legal opinion exonerates Mr Robinson. We are very comfortable with it being published. We will seek to do so in the appropriate forum in due course."