Belfast parade organiser does not live in city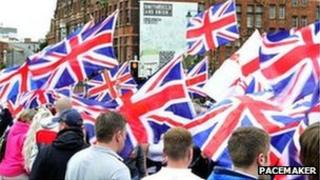 The BBC has learned that the man who is the official organiser of this weekend's loyalist protest parade in Belfast does not live in the city.
The parade has been organised by a group called the loyalist peaceful protestors.
It is being held to mark the first anniversary of the flags protest.
The name of the person who signed the form submitted to the parades commission notifying it about the event has not been made public.
This is because of data protection and his personal safety.
The Parades Commission has given the go-ahead to Saturday's demonstration but has placed restrictions on it.
It ruled that the parade should leave the front of Belfast City Hall no later than 12:00 GMT on Saturday.
If the parade does not leave the front of the city hall by 12:00 GMT, it will then become illegal.
The parade is being held days before the first anniversary of Belfast council's decision to restrict flying of the union flag to designated days.
Following the council's decision in December 2012, there were regular protests and some disturbances in the city and throughout Northern Ireland for a number of weeks.
There have been dozens of such parades this year - but only a handful of convictions for those taking part.
The police said it was much more difficult to secure convictions for breaches of a parades commission ruling than for public order offences.
While the event has been widely described as a flag protest parade - the flag issue is not mentioned on the form notifying the Parades Commission about it.
The stated reasons are human rights, political policing and PSNI brutality.
In contrast, the stated reasons for a parade in September organised by the same group included a legal flag protest.
Convictions
During the past 12 months, more than 570 people have been charged or reported to the Public Prosecution Service for offences linked to flag protests or violence during parades in the summer.
Of those - 277 have been convicted, with many of them sent to prison.
When it comes to taking part in an illegal parade, the police have to prove that those taking part were fully aware of the terms of the Parades Commission ruling.
Sinn Féin said this week that it believed the UVF was involved in organising Saturday's parade.
Police sources said that while members of the UVF and UDA were likely to take part in the event, they did not believe either group is involved in organising it.
They said they hoped it would be peaceful, and lawful, whoever was responsible,