Irish Anglicans install Rev Pat Storey as bishop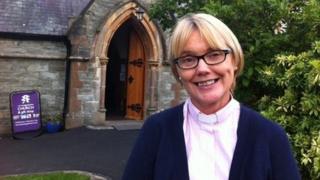 The UK and Ireland's first woman bishop has been consecrated by the Anglican Church at a service in Dublin on Saturday.
The Reverend Pat Storey, a rector in Londonderry, was appointed in September.
She was elected by the Church of Ireland as Bishop of Meath and Kildare, in the Republic of Ireland.
The married mother of two, who grew up in Belfast, said she was "excited and daunted" by the historic appointment.
The service of consecration took place at Christ Church Cathedral, Dublin.
In a sermon during the service, the Rev Nigel Parker from St Comgall's parish in Bangor, County Down, paid tribute to Mrs Storey.
He said: "It has been our privilege over the years to see you respond to our Father's love with love, trust and obedience.
"You have given yourself wholeheartedly to Him and His Church, serving His people as a deacon and priest - teaching the scriptures and pastoring with that disarming directness, which is your hallmark - a directness, which speaks the truth in love, with a ready laugh and delightful sense of humour."
Mrs Storey's husband, the Rev Earl Storey, gave an Old Testament reading during the service.
Mrs Storey, who is 53, has been rector of St Augustine's in Londonderry since 2004. She has two adult children.
Welcome
She studied French and English at Trinity College in Dublin, trained at the Church of Ireland Theological College and was ordained deacon in 1997 and priest in 1998.
She worked as a youth worker with the Church of Ireland youth department.
Mrs Storey became a priest relatively late in life, beginning her training in her mid-30s, after working as a doctor's receptionist and for Weight Watchers.
She will be installed in the cathedrals of her diocese, at Trim and Kildare, in separate ceremonies next month.
The appointment of Mrs Storey was welcomed by Watch, a group that campaigns for the appointment of women bishops.
The Anglican Churches in Wales and Scotland have the power to appoint woman bishops but have not yet done so.
The Church in Wales is due to vote in September to allow women to become bishops, the Church of England is alone in rejecting them.
The Church in England is expected to discuss permitting the appointment of women bishops next year or in 2015.