Men take compensation fight to UK's highest court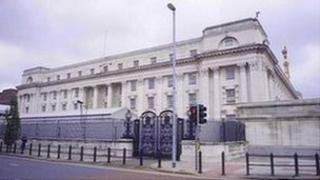 Two men whose convictions for terrorist offences were quashed after more than 30 years are to take their fight for compensation to the UK's highest court.
Last month the Court of Appeal ruled that Joseph Fitzpatrick and Terence Shiels were not entitled to pay-outs.
The judges said no "new or newly discovered fact" had been established.
Both men pleaded guilty to offences as teenagers after being interrogated by police without access to solicitors or parents.
Under the judges' rules that operated at the time, the teenagers should have been allowed access to a lawyer or an appropriate adult during interview.
Mr Fitzpatrick, now 50, from the Markets area of Belfast, was jailed for five years for membership of Fianna na hEireann - the IRA's youth wing - and for an arson attack on a motor garage in February 1977.
He was also convicted of involvement in a gun attack on an army patrol the previous December following an alleged admission to acting as a scout for the provisional IRA.
In a separate case, Mr Shiels, 49, from the Creggan in Londonderry, was held on suspicion of involvement in a shooting incident at the city's Rosemount RUC station in March 1978.
He received a suspended jail sentence based on a written statement in which he too allegedly admitted being a member of the Fianna and possession of a handgun.
Their convictions were overturned by the Court of Appeal in May 2009 following referrals by the Criminal Cases Review Commission.
With a breach of the judges' rules established, and the only evidence being the teenagers' admissions, the guilty verdicts were held to be unsafe.
But the Department of Justice refused to grant them compensation because their convictions had not been reversed due to any new or newly discovered fact showing beyond reasonable doubt a miscarriage of justice under the Criminal Justice Act 1988.
Mr Fitzpatrick and Mr Shiels were seeking a miscarriage of justice ruling that could have opened the floodgates to a series of applications stretching back to the 1970s.
In November last year the High Court dismissed their bid to judicially review that decision, leading to a further challenge in the Court of Appeal.
No new facts
Their lawyers argued that the issue had been treated wrongly, and that a new fact could include something not appreciated by the convicted person or legal representatives during the trial.
But three senior judges ruled that the right verdict had been reached in the judicial review, declaring that neither man could point to a new fact or newly discovered fact for the purposes of the Criminal Justice Act.
Following that verdict their barrister asked the Court of Appeal on Friday to endorse a legal question to go before the Supreme Court in London.
Lord Chief Justice Sir Declan Morgan confirmed the usual practice of refusing leave to certify the challenge.
But he added: "The Supreme Court can make its own decision whether to do do.
Solicitor Nichola Harte, representing Mr Fitzpatrick, later confirmed both men will now take their fight to London.
She said: "We feel that the Court of Appeal reached the wrong decision in this case and we now intend to petition the Supreme Court directly."