Four Corners Hotel 'agreed for sale' by administrators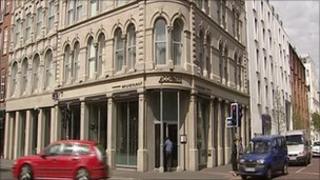 A Belfast hotel that had been effectively repossessed by the former Bank of Scotland Ireland (BoSI) has been agreed for sale.
The Four Corners, in the Cathedral Quarter, was owned by Corner Blok Ltd, which was placed into administration in 2011.
The hotel is leased to Premier Inns and has continued to trade normally.
A report from the administrators said a sale has been agreed and "is moving towards completion".
It is not clear who the purchaser is or how much they have agreed to pay.
The administrators report said that "due to the sensitive nature of the matter we are unable to provide any further details at this time".
The hotel, which is a restored building on the junction of Waring Street and Donegall Street, opened in 2008.
Corner Blok had borrowed £13m from BoSI to develop the project.
The bank appointed administrators after a delay in the payment of interest.
BoSI no longer exists. It was shut down by its parent company, Lloyds, after suffering catastrophic losses on property loans.
Its loan book is being wound down by a company called Certus.
The bank lent heavily to the hospitality sector across Ireland.
It also funded the Lough Erne hotel and golf resort in Fermanagh, another hotel that is being sold out of administration.