Loyalist William 'Mo' Courtney guilty of head-butting woman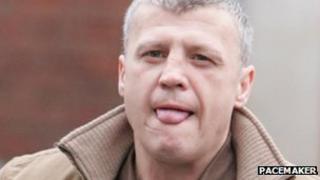 A leading loyalist has been convicted of head-butting a grieving woman.
William 'Mo' Courtney, 50, of Fernhill Heights, Belfast, was found guilty of assaulting Tracey Coulter at the Lower Shankill Community Association offices.
She had gone there to speak to one of Courtney's associates about the suspected drug-related death of her cousin a week earlier.
The court heard that after a row broke out between Ms Coulter and another man, Courtney intervened and attacked her.
Courtney, who was previously jailed for his role in the 2003 killing of UDA man Alan McCullough, claimed no assault took place.
He said he had been at the back of the offices at the time and had not even seen Ms Coulter.
However, the judge agreed with a prosecution contention that the victim would then have been unaware he was in the building.
She also said Ms Coulter would have no reason to make false allegations against Courtney when her issues were with the other man.
Courtney was found guilty of common assault, aggravated by the fact that the victim was a woman.
He will be sentenced in January.