Belfast Deputy Lord Mayor Christopher Stalford told of threat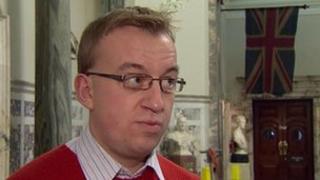 Belfast's deputy lord mayor has said he has been told by police of a threat against him.
The DUP's Christopher Stalford said that he had been contacted by police on Thursday evening and told of a threat by "criminal elements".
He described those responsible as "faceless cowards".
"Clearly people who would behave like that are just contemptible and it's a very cowardly way to behave," Mr Stalford said.
"I am told this threat comes from what the police have called criminal elements. I don't know who the threat comes from, what their politics are.
"I signed up for politics and to be in the public eye and I recognise that sometimes this sort of thing comes with the job. My wife and my children did not sign up for this.
"Given that people like that are faceless cowards, I wouldn't imagine them to be overly concerned with how their behaviour impacts on other people."
'Attack on democracy'
The threat has been condemned by Lord Mayor Máirtín Ó Muilleoir, who said he was distressed by the incident.
"Alderman Stalford, and all political representatives, must be free to discharge their duties free of threat to themselves and their families," he said.
Alliance Party councillor Mervyn Jones said: "Politicians should be able to work on behalf of their constituents without the fear of violence or intimidation. This threat should be unequivocally condemned by all. This is an attack on democracy.
"It is unacceptable that a threat has been made against an elected representative. No person deserves this."