Four George Best trustees resign from late footballer's charity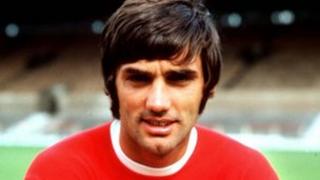 Four of the six trustees of a charity established in memory of football legend George Best have resigned amid a review into how it is run.
The resignations all took place within the last few weeks.
The family of the ex-Manchester United player said the departures were unexpected.
Norman McNarry, a brother-in-law of the late footballer, said the foundation's existence was not under any threat.
"We are a little in the dark but there is absolutely no danger going forward," said Mr McNarry, a remaining trustee and husband of Barbara, George Best's sister.
It has been dealing with governance issues and recently tasked a firm of chartered accountants to conduct an external review.
The resignations all took place within the last few weeks.
Mr McNarry added: "We want the review done and dusted, we are keen to get it done and cannot understand why the trustees have decided to go before it is completed.
"We need to find out exactly what is going on and all questions should be directed to the chairman."
The foundation's chairman is the businessman Terence Brannigan, who also chairs Glentoran FC and the Maze Long Kesh Development Corporation.
His spokesman said he did not wish to comment at this time.
Those who resigned are Alan Moneypenny, a former vice-chairman of Sport NI; the BBC broadcaster Stephen Watson; advertising executive John Keane; and Stephen Smyth, a business consultant.
They have been associated with the charity for different lengths of time, ranging from one to seven years.
"The charity will carry on. We have a plan and are looking forward to an extremely good future," added Mr McNarry.
Its recent activities include an education tie-up with Belfast Metropolitan College for young footballers.
When it was established, the foundation said it aimed to promote healthier lifestyles and help people dealing with alcohol problems.