Smithwick Tribunal: Report goes to Irish parliament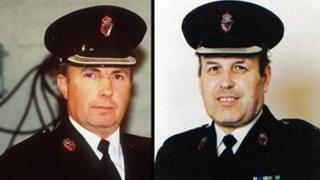 A report into whether rogue police officers helped the IRA murder two RUC officers has been received by the Irish parliament (Dáil).
Ch Supt Harry Breen and Supt Bob Buchanan were killed in March 1989 in south Armagh.
The Smithwick inquiry was established in 2005 but public hearings did not begin until 2011.
It will be eventually published, by being placed in the parliamentary library.
It is not yet known when that will happen.
Ch Supt Breen and Supt Buchanan were shot dead in 1989 only minutes after leaving a meeting in Dundalk Garda Station.
In 2003, a Canadian judge, Peter Cory, recommended that a tribunal should be set up to examine whether or not there was any collusion in the murders of the two most senior RUC officers killed during the Troubles.
The Smithwick Tribunal has heard from former high level RUC and An Garda Siochána officers, a former government minister and British agents and former IRA members.