Seamus Holland: Brothers jailed for killing uncle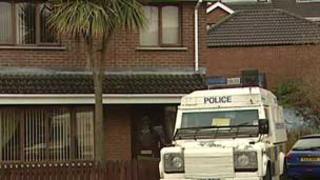 Two brothers have been jailed for the manslaughter of their uncle in west Belfast three years ago.
Gerard, 31, and Daniel, 22, Gaskin, from Gortnamona Way, admitted attacking Seamus Holland, in his Upton Park home in west Belfast, but denied his murder.
Gerard Gaskin, was given an indeterminate sentence, while his brother, Daniel Gaskin, was given three years for the attack in November 2010.
Mr Holland's niece, Ann-Marie McCann, said the sentences were "a disgrace".
"It's an injustice," she said.
"We will have to live with this for the rest of our lives. They did not get enough time for taking Seamus's life. Taking a life should mean life."
Provocation
In June, a jury of six men and six women cleared the brothers of murder, but unanimously convicted them of manslaughter, on the basis of provocation.
They also deemed that the older Gaskin was guilty by reason of diminished responsibility.
Daniel Gaskin was told he will be released after serving his three-year jail term, less time spent on remand awaiting trial.
Gerard Gaskin was told that after he serves a minimum of four and a half years, again less time on remand, he will only be released after the Parole Commissioners deem it safe for the public to do so.