Conviction prompts fresh commentary on past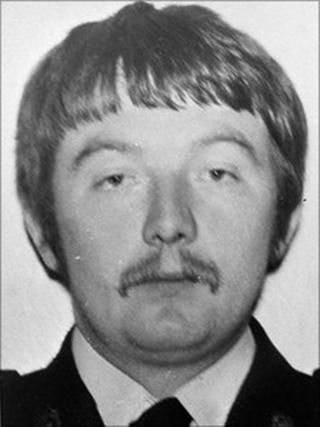 The conviction of Seamus Kearney for the 1981 murder of police reservist John Proctor has stirred a new round of political commentary on the Attorney General John Larkin's suggestion there should be an end to prosecutions for Troubles-era offences.
The TUV leader, Jim Allister, says the conviction highlights "the absolute folly of the attorney general's call for an amnesty for pre-1998 offences".
Mr Allister, who is both an MLA and a leading barrister, argues that "murder is murder and has no sell-by date".
"The particularly callous nature of Reserve Constable Proctor's death highlights the nature of the crimes Mr Larkin was suggesting should be forgotten," he added.
"I know from my discussions with this family how crucial the pursuit of the killer was to them.
"Their relentless insistence on justice was rewarded with the emergence of DNA findings. Such can happen for other families."
The Ulster Unionist MLA, Sandra Overend, welcomed the conviction for what she said was "a particularly callous and cruel crime, even by the awful standards of the time".
Ms Overend added: "Republican apologists today seek to rewrite history by portraying the IRA's failed campaign as some kind of war fought by brave warriors."
She added that "the murder of John Proctor exposes that as a total and utter lie".
By contrast, Sinn Féin's Mid Ulster MLA Ian Milne argued that the decision to pursue Seamus Kearney "on these historic charges was wrong, vindictive, unnecessary and counterproductive".
He added: "It is ironic at a time when the Haass process is coming to a conclusion in dealing with legacy issues that a republican is being imprisoned on historic changes.
"It seems that the British government, on one hand, wants to talk the language of building a new future here but at the same time is sending a message that it is continuing to fight old battles."
Mr Milne, himself a former IRA prisoner, pointed out that Seamus Kearney has already served a long period of imprisonment for IRA activities, and argued he should be released and allowed to return home.
Sinn Féin's arguments over the conviction didn't impress the DUP.
Their Lagan Valley MP, Jeffrey Donaldson, expressed his sadness that, because of the Good Friday Agreement, Seamus Kearney will only serve two years in jail.
Mr Donaldson said Sinn Féin's response reflected "a callous disregard for the suffering and pain inflicted by the IRA on Mr Proctor's family".
"It is disgraceful to see elected representatives rushing out press releases demanding the release of this convicted murderer," he said.
"Indeed, the fact that a Sinn Féin MLA couldn't even mention Mr Proctor by name in his press release speaks volumes: he was just another RUC man to their mind."
Although Mr Donaldson did not refer to the attorney general's proposals, another DUP politician, MLA Trevor Clarke commented on Twitter: "At last justice, AGNI (attorney general Northern Ireland) should take note, no amnesty".
Patrick Corrigan from the human rights group, Amnesty International, tweeted that the case illustrated the potential for "justice via investigation and prosecution, even after passage of time".
The conviction of Seamus Kearney comes a day after the secretary of state reiterated to the House of Commons that the government has "no plans to introduce an amnesty" and eight days after Mr Larkin's proposal provoked a furore.
At an East Belfast Speaks Out event I chaired this week, the intervention of another lawyer, John McBurney, provoked considerable debate.
Mr McBurney, who has worked with the Smithwick tribunal, raised the possibility of offering not a blanket amnesty, but a more limited form of immunity in exchange for information.
Mr McBurney suggests such immunity might apply only in specific circumstances, such as in a tribunal to examine the Troubles, an inquest or to a body like the PSNI's Historical Enquiries Team.
This reminded me of Naomi Long's contribution to BBC Northern Ireland's the The View programme last week.
She talked about considering a "suite of measures" which might accommodate different victims' perspectives on truth, justice and reconciliation.
"Some victims will choose to go for truth rather than justice and I would not deny them the right to choose that," the East Belfast MP said.
Ms Long pointed out that the families of the Disappeared "chose to allow limited immunity from prosecution on information that would recover the bodies, because that was their priority".
She went on to say that "in the right context" it should be possible to offer others this option "by having the right suite of measures, the right menu of options for people, they may be able to explore those different options".
Is it possible to design a system which allows some victims the option to offer perpetrators immunity in return for truth, whilst keeping the current option of prosecutions and convictions open to those victims who don't go down that route?
Or are the practical and legal difficulties this might involve too complex to comprehend?
Will the firestorm following Mr Larkin's intervention spur our local politicians to agree an alternative approach to the past?
Or will it simply prolong the current reality, in which convictions like that of Seamus Kearney can still happen, but remain few and far between?