Finance minister rules out Exploris aquarium aid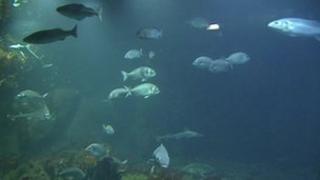 The Department of Finance has ruled out giving any financial assistance to help a County Down aquarium stay afloat.
Finance Minister Simon Hamilton made a brief response to a request from the Northern Ireland Assembly enterprise committee to help with an assistance package.
"Aquariums are not the responsibility of the DFP," he said.
Exploris, in Portaferry, has been threatened with closure over concerns about its running costs.
Ards Borough Council delayed a decision to vote on closing the attraction amid hopes that funding could be secured from the Stormont Executive.
The chair of the committee, Patsy McGlone, accused the minister of not taking the threat of closure seriously.
After a visit to Exploris, the DETI committee wrote to the minister asking if the Department of Finance and Personnel could help find any alternative sources of income to help rescue the threatened tourist attraction.
In a two-line response the finance minister thanked the committee for its letter about the proposed closure and added: "As the Enterprise, Trade and Investment Committee will be aware, aquariums are not the responsibility of the DFP."
Mr McGlone said: "His response is in sharp contrast to other ministers who sent their representatives down there to meet with local representatives to see if anything can be done to save the aquarium."