Tassagh fire deaths: Accused 'did not intend to kill'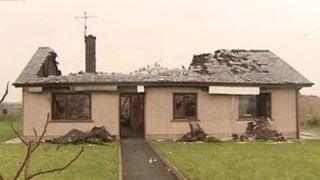 Four brothers on trial for murdering a couple at their County Armagh home did not intend to kill, a defence lawyer has said in her closing submissions.
Niall, Martin, Christopher and Stephen Smith deny the murders of Thomas O'Hare and Lisa McClatchey at their remote cottage near Tassagh in 2006.
The brothers have admitted breaking into the house, beating Mr O'Hare and pouring petrol around the property.
However, the defendants claim they only planned to burn the house, not to kill.
The Smith brothers were injured in the fire, but Mr O'Hare and Ms McClatchey suffered serious burns and died in hospital days later.
'Horrific'
Mr O'Hare had been convicted of sexually abusing the youngest of the four brothers, Stephen Smith, many years before, when they both lived in the County Armagh village of Cladymore.
At the time of the abuse, Stephen Smith was about eight years old and Thomas O'Hare was 17.
A lawyer for the oldest of the four brothers, Niall Smith, said the evidence did not support the Crown case that the brothers had deliberately poured petrol over the victims nor that one of them had deliberately lit the petrol, despite the fact that they were all still in the house.
She suggested to the jury that, had the Smith family been intent on killing Thomas O'Hare, they would have acted much earlier.
"The Crown case is that for eight years this family allow Mr O'Hare to live his life, then out of the blue because, the Crown says, Stephen Smith has a child, they decide 'let's go and kill him'.
"They don't just shoot him, or beat him up but choose - according to the Crown - to kill him by burning him alive.
"They go straight from lawful conduct to the most extreme case - to kill him in the most horrific manner.
'Second hand evidence'
"No-one here is suggesting to you that going to burn a house down was right. But we are suggesting that they did not intend to kill," the defence lawyer told the court.
She said the Crown case relied upon statements attributed to Lisa McClatchey in which she reportedly said the gang of intruders 'poured petrol over us'.
"We say that, without those (statements), they would have no case," she said.
"But this evidence is second hand and so second best. There has been no opportunity to test this evidence in court."
The defence lawyer asked the jury to remember that Ms McClatchey was seriously injured, frightened and stressed that night.
"How reliable an account could she give?" the lawyer said. "How reliably could people in this scene of complete horror and chaos remember the exact words she used?"
She highlighted inconsistencies in statements from different witnesses, saying these illustrated the "frailty of human memory".
'Revenge'
The defence lawyer said: "You cannot accept this evidence and you certainly cannot convict someone for murder on the strength of it."
She said the Crown case was that, eight years after Thomas O'Hare's abuse of Stephen became public, the Smiths, for some reason, became motivated to take revenge.
She added: "And not just revenge but murder and not just murder, but horrible cruel murder.
"The Crown suggests these men, who have had no contact with Thomas O'Hare in all those years; that they take this huge step - not one, two or three of them but four of them. The evidence doesn't support that; common sense doesn't support that. "
The lawyer picked up on a prosecution point that burning Thomas O'Hare's house at Foley Road, Tassagh, would not necessarily have stopped him visiting Mourneview Park where Stephen Smith lived.
The Smiths have argued that this was what they wanted to achieve.
Niall Smith's lawyer said: "When you burn a house the message is 'get out of this area'. Mr O'Hare would have understood this."
In closing, she told the jury there was "Not a single doubt in this case; there is an abundance or reasons that would give you cause for doubt."