Mivan, Lagan: Northern Ireland companies may merge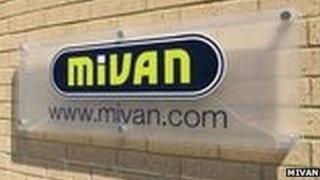 Two of Northern Ireland's biggest construction companies are considering merging, the BBC has learned.
Directors of Mivan and Lagan Group Holdings are currently in discussions.
Both companies hope to benefit from being part of a larger organisation. Neither company would comment on the situation as discussions are ongoing.
Between them, the two companies employ hundreds of staff in Northern Ireland. They employ even more staff further afield.
The construction market is increasingly competitive, and to compete on the international stage many argue that bigger is better when it comes to winning and delivering contracts.
The Lagan Group has a colourful history when it comes to mergers.
They effectively underwent a de-merger when the two Lagan brothers had a bitter fight and split the company between them back in 2008.
Bullet
Lagan Group is now owned and run by Kevin Lagan.
They then hit the headlines again last January when Kevin received a bullet in the post during talks over a merger with Quinn Building Products.
Those merger talks were dropped days after that incident, but it showed that Lagan are obviously looking to expand further by buying or merging with other companies.
Underlying financial problems in Mivan have been an issue in recent years.
Their most recent results show that they have made more than £40m in losses since 2009, due to bad property debts
However, their daily business is in good shape.
Mivan have switched their focus since the housing crash to develop a specialism in fit-out.
They are just completing work on revamping Heathrow Airport terminal 2, have won contracts on a number of cruise ships, and worked on King Abdullah's new Sport's City in Saudi Arabia.