Viking silver in County Antrim field declared treasure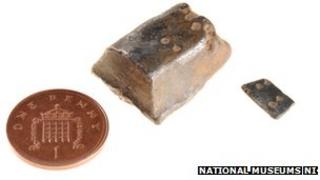 Two items of silver found in a field in County Antrim have been declared treasure, Belfast Coroner's Court has found.
The objects were found by a man with a metal detector in a field on the Soldierstown Road, near Aghalee last year.
He took them to the curator of Armagh County Museum for further examination.
The items, which are more than 1,000 years old, will now go to the British Museum for valuation.
Marcin Sadowski found the two small pieces of silver during two separate searches of the field.
The court heard that Mr Sadowski, who works as a baker in Crumlin, County Antrim, was given permission by the landowner to carry out his metal detecting hobby in the field.
The curator of Armagh County Museum, Dr Greer Ramsey, told the court that tests were carried out to establish the nature of the items.
The items were found to be small chunks of Viking "hack-silver", which may have originally formed part of a larger hoard.
The larger of the two artefacts had been cut from a bar of silver and the smaller one cut from an arm ring.
During the Viking age, around 800-1050, silver was mostly used to make various forms of jewellery and also as a type of currency.
Silver jewellery was often cut into smaller pieces and the weight of the chunk determined its monetary value, hence the name "hack-silver".
Dr Ramsey said the artefacts will be valued by the British Museum.
If the museum wishes to acquire the treasure it will pay the necessary valuation, which is split evenly between the finder and the landowner.