PwC: NI economy set to grow at fastest rate since 2007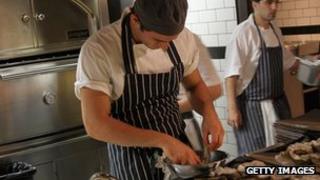 Northern Ireland's economy is set to grow at its fastest rate since 2007, but households will struggle to see the benefits.
The finding was contained in a survey by PricewaterhouseCoopers (PwC).
It also predicts interest rates will remain at their historic low of 0.5%, at least for the medium term, providing some comfort to those feeling the squeeze in the cost of living.
PwC also predicts the local economy will expand by 1.6% in 2014.
PwC's chief economist in NI, Esmond Birnie, said: "Compared to the past four years, there is a distinct whiff of recovery in the air."
In August, the Bank of England said it would not consider raising interest rates until the UK's unemployment rate hit 7%.
Unemployment currently stands at 7.6%.
Mr Birnie said: "It may reach 7% sooner rather than later and the business community in particular should be planning for that now.
"A 1% increase in interest rates will cost the average Northern Ireland household about £550 a year and add to the squeeze on individuals and families."
The survey also says because any wage increases lag behind inflation, many households may not feel economic recovery.
Despite the predicted economic growth, Northern Ireland is "still pretty much at the bottom" of the league table of UK regions in terms of performance.
Unemployment is forecast to keep falling, but PwC says it is worrying that over one fifth of young people are not in a job, education or training.