Northern Ireland Electricity faces credit rating downgrade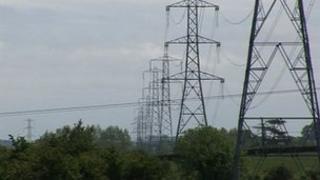 Northern Ireland Electricity's credit rating is likely to be downgraded after it lost its battle with the NI utility regulator over price rises.
Earlier this month, the Competition Commission agreed with the regulator that NIE could not raise its household bills by as much as £25 a year.
Fitch Ratings said it would likely downgrade NIE if the commission's decision was confirmed early next year.
NIE is currently rated as A- but now faces being downgraded to BBB+.
Ratings agencies evaluate the creditworthiness of companies and governments.
The maximum credit rating for any firm is AAA.
A ratings downgrade would mean NIE would be considered a riskier investment and may have to pay more to borrow money.
The electricity firm controls the power grid in Northern Ireland and its charges account for about 20% of a typical household electricity bill.
It wanted to raise bills by about £25 a year over the next five years, up to 2017.
However, the Competition Commission has ruled that the increase should only be around £5 a year.
Fitch said this decision was "expected to have a negative impact on the company's allowed revenues and consequently its cash flow generation ability".