Hugh Hutchinson jailed for theft at Harland and Wolff shipyard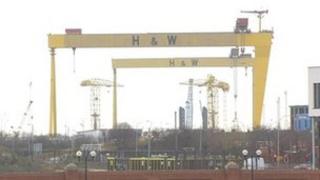 A former Harland and Wolff site manager has been jailed for stealing scrap metal worth more than £17,000 from the east Belfast shipyard.
Hugh Hutchinson, of Sheringhurst Park, Belfast, pleaded guilty to 41 counts of theft from the shipyard between 16 September, 2010 and 5 September, 2011.
Belfast Crown Court heard that the investigation began when the firm's management received an anonymous letter, tipping them off about the theft.
Hutchinson was given a four-month term.
A prosecution barrister told the court that quantities of scrap metal from the shipyard were taken by van and forklift truck to a nearby recycling centre to be sold.
'Position of trust'
He said that cheques for the scrap metal should have been made out to Harland and Wolff, but instead 41 of the cheques were made out in Hutchinson's name.
The amounts totalled £17,225.15 over the year.
The prosecution said that Hutchinson had "breached his position of trust" as, in his role as site foreman, he was allowed to remove the metal from the shipyard to be scrapped.
The court heard that Hutchinson was to have been sacked for gross misconduct after admitting the theft, but instead he "walked out", before the end of a disciplinary meeting.
Hutchinson later resigned from Harland and Wolff after 40 years service.
A defence solicitor claimed that the practice of taking the metal from the shipyard to be scrapped and sold off had become "part and parcel of the job".
"The monies were divided up with other members of staff, who would go for a drink after work," said the solicitor.
Compensation
"On one occasion the monies were given to a man who was retiring from the shipyard," he added.
The judge said Hutchinson had "breached the trust" of his employers by selling of the scrap metal and keeping the money.
Sentencing him to four months in prison, the judge also made a compensation order for £17,225.16, which is to be repaid within six months.