Tassagh fire deaths: Smith brothers lied says prosecution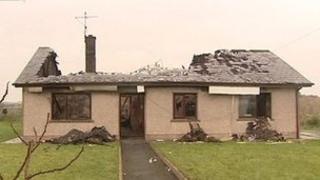 Four brothers accused of a double murder "lied and lied to the court in an attempt to save their own skins," a prosecution lawyer has said.
Niall, Martin, Christopher and Stephen Smith deny they killed Thomas O'Hare and Lisa McClatchey in an arson attack.
Their cottage near Tassagh in County Armagh was set alight in November 2006.
Summing up the prosecution's case, the lawyer claimed the brothers' admissions were classic examples of "confess and avoid".
He told the court in Armagh, they were "not as clever as they thought". Their version of events contained "many inconsistencies", he claimed.
"What you have witnessed is a collected attempt to fit a defence around the evidence they simply cannot avoid; a damage limitation exercise," he told the jury in Armagh.
The Smith brothers have accepted being at the scene and causing the fatal fire, but insist that was not their intention.
But the prosecution lawyer asked why the plan was so elaborate, if it was about burning the house.
"The balaclavas, the over clothing, the specially bought boiler suit, the getaway cars and drivers. On an unlit country road, you could drive up, throw a petrol bomb or two through the window and the job's done," he told the court.
"No, this was to be a complete job. Maybe they knew Lisa would be there, maybe they didn't. But they couldn't leave a witness."
The brothers' defence teams are due to begin their closing speeches on Thursday.