Haass talks: Team receives over 600 documents to consider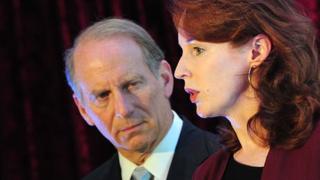 As the inter-party negotiations on parades, flags and the past approach their final crucial month, it is clear that Dr Richard Haass's team not only have a lot of talking still to do, but they will not be short on reading matter either.
The team invited interested parties, groups and individuals to send them written submissions though their website. By late November, the Haass team confirmed they had received more than 600 documents.
The Haass team includes two researchers, whose duties include reading and processing the information in all of the submissions.
Confidence
Initially Dr Haass asked the five Stormont parties who are taking the main role in the negotiations to give him their ideas in confidence.
The DUP leader Peter Robinson says he wants to keep his party's proposals private until the talks are over, as he believes if the politicians reveal their hands it will limit their room for manoeuvre.
By contrast in mid-November Sinn Féin published its position on each of the three areas under discussion.
Other parties not at the table, such as Labour and the Northern Ireland Conservatives have published their submissions. So have a number of pressure groups and individuals.
Taken together the ideas represent the contrasting ideas of the community about how Northern Ireland should chart its future.
Informing debate
Our political editor Mark Devenport has asked any group or individual who want their submission to inform the current debate to send him a link to their documents.
Initially Mark published links to these submissions on his correspondent's page, but now we are bringing them together in one alphabetical list, that we will update as time goes on in accordance with our editorial guidelines.
Please keep Mark informed if you have a published submission you wish to add to the list below or have seen one elsewhere on the web which is not included.
He can be contacted via Twitter @markdevenport or e-mail mark.devenport@bbc.co.uk
Haass submissions
Committee on Administration of Justice
Initiative for Conflict-Related Trauma