UVF ceasefire 'no longer intact', says Naomi Long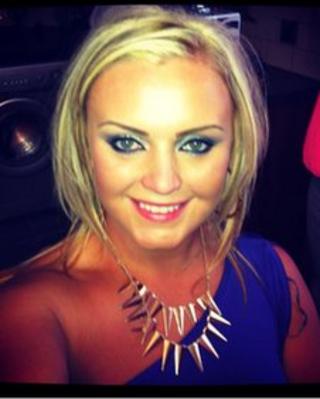 The Ulster Volunteer Force ceasefire (UVF) is no longer intact, according to East Belfast MP Naomi Long.
Her comments came after police revisited the scene of the attempted murder of a woman, which was blamed on the loyalist paramilitary group.
Jemma McGrath, 24, was shot at her house in Lord Street Mews, off the Beersbridge Road in September.
Ms Long said she had raised the issue of the UVF ceasefire with the secretary of state.
"I do not believe that the UVF ceasefire is intact any longer," she said.
"There have been a number of incidents, both in my constituency and beyond, which have been attributed either to the UVF or to members of the UVF.
"The police have identified that senior members of the UVF have been involved in orchestrating rioting and involving in more recent rioting around the flags issue.
"I think because of the political motivation behind that and because of the nature of the violence they have been involved in, their ceasefire really is no longer in place."
Earlier this month, chairman of the Police Federation Terry Spence, and Sinn Féin's Gerry Kelly both said the UVF was no longer on ceasefire.
On Tuesday night, police returned to the scene where Ms McGrath was attacked. She was shot in the lower abdomen, hips and knees.
The police specifically appealed to anyone who saw two men in the area.
Two people have been arrested and released on police bail in connection with the incident.
During 30 years of the Troubles in Northern Ireland, the UVF murdered more than 500 people.
More recently, it has been linked to intra-loyalist feuding and involvement in fierce rioting after some protests over a restriction on the flying of the union flag at Belfast City Hall.
In 2007 the organisation declared that it was renouncing violence.
Earlier this month, the police said elements of the UVF, particularly in east Belfast, had been involved in a range of criminal activity, however the issue of re-specification was a political decision.