Shooting for Socrates: NI versus Brazil World Cup 1986 story filmed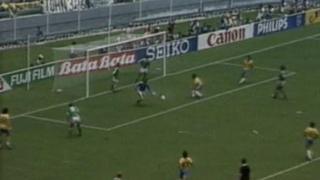 The World Cup has provided many underdog stories down the years, but few matches have been as David and Goliath in nature as Northern Ireland's 1986 match against Brazil.
The game was a baptism of fire for 21-year-old David Campbell, who made his Northern Ireland debut in front of 50,000 people in the searing heat of Guadalajara, Mexico.
Twenty five years later, his chance meeting with a movie director on a yacht at the Cannes Film Festival set the ball rolling on the story being transferred to the cinema screen.
Filming has started in Belfast on Shooting for Socrates, a low-budget film that tells the story of a father and son who are Northern Ireland fans, against the backdrop of the team's World Cup exploits.
Mr Campbell says the idea for the film began to take shape when director James Erskine asked him what was his best ever game.
"I said it was probably my Northern Ireland debut against the best team in the world.
"You're in the tunnel, there's a huge crowd outside and the Brazilian legend Socrates is standing beside me - amazing memories," he says.
While the film does not end in a dramatic victory, as Brazil won 3-0, Mr Campbell says: "We drew the second half 0-0."
The scenes are being recreated on Northern Ireland's home turf of Windsor Park in south Belfast, but Mr Campbell says the footage shot so far captures the drama of the match.
It features a number of prominent acting figures, including Richard Dormer, Ciaran McMenamin and Conleth Hill, who plays BBC sports presenter Jackie Fullerton.
Marie Jones has written the script, but it is not the first time she has tackled the subject - her play, A Night in November, raised the hackles of some Northern Ireland fans when it touched on sectarianism.
Now she feels she has done her bit to combat sectarianism in local football and hopes that the feel-good nature of this script will exonerate her.
"Please forgive me, Northern Ireland fans at Windsor Park", she says.
Distinctive accent
The part of Northern Ireland boss Billy Bingham is being played by John Hannah, star of Four Weddings and a Funeral and Sliding Doors.
He admits he has struggled to get to grips with the manager's distinctive accent.
"I've been watching Billy on YouTube and, to be honest, I didn't even know he was from Northern Ireland," he says.
"The dilemma is that if I imitate his voice, people might think I'm just doing a really bad Northern Ireland accent."
While the film makers are excited by the challenge of putting the story on the big screen, Northern Ireland's captain on the day was sceptical.
Sammy McIlroy says: "When they told me about it, I sniggered and said, 'go for it', but honestly I was thinking if you can do this you'll be magicians.
"Now I've seen how hard they've worked on this, it looks like a great film and very good for Northern Ireland."
The film makers aim to release the film in June next year at the same time as the World Cup begins in Brazil.