Tassagh fire deaths: Christopher Smith 'dragged Lisa McClatchey from house'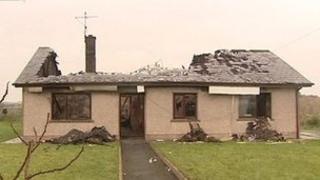 One of four brothers accused of double murder dragged one of the victims out of a house that the brothers had just set on fire, a trial has been told.
Stephen Smith said his brother Christopher dragged Lisa McClatchey out of the burning cottage she shared with her boyfriend, Thomas O'Hare.
The brothers deny murdering the couple in Tassagh, County Armagh, in 2006.
Earlier on Tuesday, Stephen Smith told the court that Thomas O'Hare had sexually abused him as a child.
He admitted that he, along with his brothers Christopher, Martin and Niall Smith, had planned to burn down Thomas O'Hare's cottage on Foley Road, Tassagh, in a bid to drive him out of the area.
Under cross-examination on Tuesday afternoon, Stephen Smith described how on the night of the fire Ms McClatchey had asked him what was going to happen.
'Hot gases'
He claimed that he told her not to worry, saying: "We're going to burn this house down. We don't want him (Thomas O'Hare) living in this area. Nothing's going to happen to you."
The couple and the brothers were injured in the fire when the cottage exploded in flames. Thomas O'Hare and Lisa McClatchey died from their wounds.
Stephen Smith told the prosecution lawyer that, after the explosion, he and Christopher dragged Lisa McClatchey towards the door of the cottage, but that all three stumbled and fell. Christopher, however, eventually dragged Ms McClatchey through the back door of the property.
The prosecuting lawyer challenged his version of events, asking why Ms McClatchey had not mentioned this to any later witnesses.
The lawyer also asked why, if Ms McClatchey had been exposed to the same ferocity of fire as Stephen and Christopher Smith her injuries had been so much more severe, particularly in relation to her having breathed in hot gases.
The lawyer said: "This is an untrue explanation and one that you and your brothers have stitched together to try and explain as much of the prosecution evidence as possible."
Stephen Smith insisted his version of events was true.
'Paedophile'
When cross-examined about his "obsessive" feeling of protection towards his baby son and his concerns about Thomas O'Hare, Stephen Smith admitted that he did not like seeing his former abuser in the area.
"It was like it (the abuse) was starting all over again," the defendant said.
The prosecution lawyer suggested that burning the house at Foley Road would not have prevented Thomas O'Hare from coming to Mourneview Park, Lurgan - the County Armagh estate where both Mr O'Hare's parents and the Smith family lived.
Stephen Smith said: "I think he would've got the message. He would've known rightly why this was done and that alone would've stopped him coming back into the village."
The lawyer asked him: "The way to stop Thomas O'Hare coming to Mourneview Park was to kill Thomas O'Hare?"
The defendant replied: "There's not a hope of me getting involved in killing anybody. He done what he done but he didn't deserve to die. None of us would ever think like that."
The prosecution lawyer went on to suggest that, because Ms McClatchey was "associating with a paedophile", the four Smith brothers did not care about her and that they knew they "couldn't leave a witness."
Stephen Smith said: "That whole scenario - it just wouldn't happen. It was nothing to do with Lisa McClatchey. I wouldn't have touched Lisa McClatchey; none of us would have. She looked like a child."
The lawyer continued: "You wanted to take Thomas O'Hare out of the picture completely didn't you?"
Stephen Smith replied: "No, it was always about burning the house."