Speeders caught at twice legal limit in Tyrone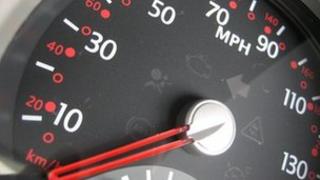 Two drivers have been caught driving at speeds of more than twice the legal limit in County Tyrone within the past month.
One motorcyclist was found to be travelling at 138mph (222kmph) when detected by officers.
Another motorist, whom police described as "relatively inexperienced", was driving his car at 127mph (204kmph) in a temperature below freezing (-2C).
Both of the drivers were arrested in Aughnacloy and now face prosecution.
Officers said neither motorist was given a speeding ticket because the speeds they were travelling at "were so high that both drivers have been reported for prosecution through the courts".
The Police Service of Northern Ireland (PSNI) released details of the speed detections on their Fermanagh area Facebook page.
"Some people reading this might be impressed by these speeds, but the fact remains that driving at more than twice the legal limit is irresponsible and reckless," the officers' Facebook post said.