Holywood bandsmen convicted for playing The Sash outside church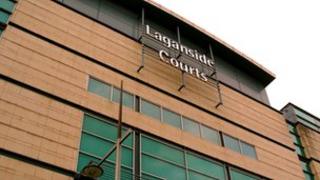 Two flute band members broke parading conditions by playing the loyalist song, The Sash, outside a Catholic Church in Belfast, a court has ruled.
Thomas Beresford, 21, of Strathearn Court and Stephen Walker, 28, of Church Green, both in Holywood, County Down, were convicted of knowingly flouting a ban on playing non-sacred music.
It happened during part of an Ulster Covenant centenary parade last year.
The men were identified in footage of the Holywood True Blues band.
They were filmed passing St Matthew's Church on Newtownards Road, east Belfast, on 29 September.
In Belfast Magistrates Court on Tuesday, a judge described claims that they had not seen flashing warning signs on the prohibited section of their parade route as "inconceivable and incredible".
Under a determination by the Northern Ireland Parades Commission, only hymns were to be played as bands passed the church.
Bass drummer Beresford claimed he had not spotted any of the flashing signs warning against playing such tunes because he played with his head "buried" forward.
Walker denied any knowledge of the restriction.
Asked by a defence barrister if he would have played the tune if he had been aware, Walker replied: "No, definitely not, because I wouldn't want to go to court for it."
However, a prosecution lawyer insisted there was nothing other than embarrassment stopping either man from stepping out of their band once they were aware of the notification.
The district judge said: "I find it absolutely inconceivable and incredible that these two men would have walked past these signs, both flashing continuously and indicating: 'Sacred tunes, hymns only from this point'.
"Therefore, they knowingly breached the determination because they were told what they were not to do."
Both men are due to be sentenced next week.