Police set up checkpoints in Belfast after bomb partially explodes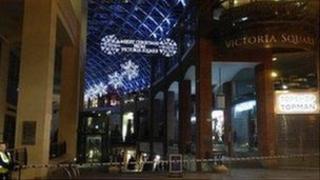 Police have set up vehicle checkpoints in Belfast after Sunday's partial explosion of a bomb in the city centre.
Patrols are to increase significantly after the device was left in a car at Victoria Square shopping centre car park.
Chief Superintendent Alan McCrum said: "We are all aware of the threat that is posed by terrorists.
Dissident republicans were blamed for Sunday's alert. No-one was injured.
'Business as usual'
Mr McCrum said there would be a "very visible" police presence "in key locations at key times".
"Everyone can play a part in helping to tackle this by remaining vigilant and by reporting any suspicious activity.
"Police will be on foot, on bikes and conducting vehicle check points in hot-spot areas to prevent crime and reassure shoppers, revellers and motorists," he added.
Lord Mayor of Belfast Máirtín Ó Muilleoir said he was determined that the Christmas period would be "business as usual" for the city.
"There may be some roadblocks coming in to the city centre, but we want to keep it moving and we want people to come in," said the Sinn Féin councillor.
"The people who attacked Belfast want to wreck Christmas, and the rest of us aren't going to let them."