Paul Quinn's mother tells Haass post-Good Friday Agreement victims must be remembered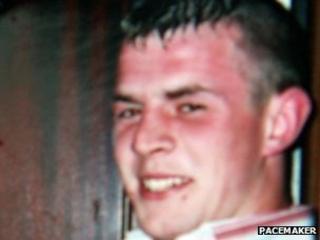 The mother of a County Armagh man beaten to death six years ago has said people murdered since the Good Friday Agreement must not be forgotten.
Paul Quinn was 21 when he was killed. His family blame the IRA for his murder.
The family are among over 500 groups and individuals to present submissions to the talks process chaired by Richard Haass on the past, flags and parading.
Breege Quinn said: "We are victims of the peace - not the Troubles."
Paul Quinn was found beaten at farm buildings in Tullycoora, near Castleblaney, County Monaghan, in October 2007 and died later in hospital.
"We got there, the doctor came out, shook our hands and he said they left nothing for us to fix," Mrs Quinn said.
"They didn't even leave his hands so we could put rosary beads in, they just broke every part of his body."
The family, who are from Cullyhanna, County Armagh. say Mr Quinn was in dispute with IRA members and had refused an order to leave the country.
Sinn Féin has denied republican involvement in Mr Quinn's death.
"They (the killers) had their boiler suits, they had their iron bars, they had their sticks, they had their stuff for cleaning up the shed afterwards. Nobody round here has that, only (the) IRA," Mrs Quinn said.
"We haven't had a Christmas since Paul died - we have to go to the graveyard that day, that's where our son's having his Christmas."
'Justice'
Mrs Quinn criticised a suggestion last week by Northern Ireland Attorney General John Larkin that there should be an end to all prosecutions, inquiries and inquests for Troubles-related killings.
"I thought that was terrible for any grieving parent to have to hear," she said.
"People can't go on until they get justice, no matter how long it takes."
In their submission to the Haass talks, they say they feel there is a "strong momentum building towards more truthful accounts of all the events up to 1998", but they "fear politically-inspired cut-offs".
Mrs Quinn added: "We are victims - we want him (Dr Haass) to remember us and not have Paul's death forgotten, nor those of other people who have gone through the same since the peace process."
Mrs Quinn said she remained hopeful that her son's killers would be eventually be caught, adding: "We keep hoping every day, and people keep saying 'what goes around comes around'."