NI knowledge economy growing faster says research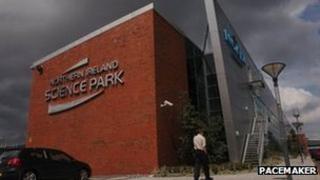 Northern Ireland's knowledge economy is growing at a faster rate than other areas of the UK, according to the NI Centre for Economic Policy (NICEP).
However, it found Northern Ireland was still one of the weakest regions in the UK, ranking 10th out of 12.
It adds that while the gap is being closed, growth is happening from "a relatively smaller base".
Knowledge economy refers to technology and research firms, such as software, pharmaceuticals and aerospace.
Growth targets
The research, produced for the NI Science Park Connect, suggests that less than 5% of the NI workforce is employed in the knowledge economy, while the overall UK rate is more than 6%.
Richard Johnston of NICEP said the centre had developed a new index to track the performance of the sector.
"The Composite Knowledge Economy Index shows that the sector has grown more rapidly in NI than the UK, especially since 2009 when the impact of the recession was most acute," he said.
The index puts growth in Northern Ireland at 21% between 2005 and 2013, while the UK rate was just 0.6%.
Mr Johnston said while there is optimism, there is no room for complacency.
"We must acknowledge that the knowledge economy in NI has grown from a low base and there is still some way for us to go to catch up with the UK," he said.
"We should also be cognisant of the fact that all other UK regions are striving to grow their knowledge economies and we should not underestimate the scale of the challenge.
"The challenge is to ensure that both government and the private sector make the most of the support available, stretch our growth targets and provide the joined-up approach we need in terms of education, training, research and development, business planning, international sales, and marketing and supply chain development."
Steve Orr of NI Science Park Connect said he believed the work going on in the sector meant there was the capacity "to be much higher in the ranking in real terms".