Robert Mulholland and Mulholland Scrap Metals Ltd fined over illegal waste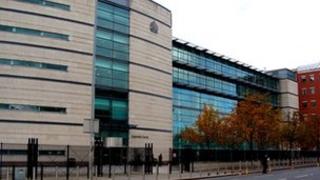 A businessman and his scrap metal firm have been fined £45,000 for dumping waste illegally at their premises.
Robert John Mulholland and his firm Mulholland Scrap Metals Ltd admitted keeping, depositing and treating controlled waste without a licence.
The company is based at Maine Road, Shanksbridge, Ballymena, County Antrim.
Belfast Recorders Court heard that investigators found up to 80% of the land at the firm's site covered in scrap metal, cars and car parts.
The judge was told that officers from the Northern Ireland Environment Agency (NIEA) visited the company's premises on 29 June, 2010.
The investigators said they found a large amount of scrap metal, consisting of scrap lorries, trucks, cars, fridges, bed springs, batteries and cans.
'£3m turnover'
The court heard that NIEA wrote to Mr Mulholland, who was the director and sole shareholder in the business, to advise him that he was operating without a waste management licence.
A year later, on 28 June, 2011, the NIEA visited the eight-acre site for a second time and found that "50-80 per cent'' of the land was covered in scrap metal and discarded vehicles.
Mr Mulholland claimed during interview under caution that he was working with a consultancy firm who were in the process of applying for a waste management licence.
However, the judge was told that an application for a waste management licence was only received by the NIEA from the consultancy firm on 12 December, 2011 - six months after the NIEA's second visit to Mulholland Scrap Metals Ltd.
'Persistent breaches'
The court heard that between 29 June, 2010 and 28 June, 2011, the NIEA estimated around 19,722 tonnes of waste had been treated on the site with a minimum estimated turnover put at about £3m.
The judge said Mulholland and his company had committed "deliberate and persistent'' breaches of waste treatment laws for a year at the site.
The judge fined Muhollannd £40,000 and sentenced him to three months in jail, suspended for two years, for three offences under the Waste and Contaminated Land (NI) Order 1997.
His company was fined a total of £5,000 for the same three offences.
The court granted Mulholland four months to pay off the fines.
A confiscation hearing is expected to take place in March 2014.