Natasha Foster jailed for making false rape claim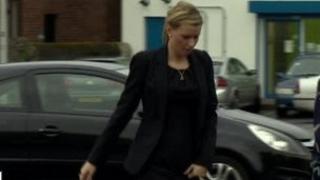 A woman who made a false rape claim against her ex-boyfriend after he ended the relationship by text message has been sentenced to three months in jail.
Natasha Foster, from Ballymoney Road in Ballymena, County Antrim, told police in 2011 that her on/off boyfriend had sexually attacked her in her home.
Two days later she admitted to officers that she had lied about the rape claim.
She was charged with perverting the course of justice - a charge she pleaded guilty to in September.
On Monday, the judge at Antrim Crown Court said the 23-year-old's actions were apparently shaped by receiving a text from an ex-boyfriend she had sexual relations with on 22 November 2011.
The text from the man said he did not want to rekindle the relationship.
Foster's actions, the judge, said were "a mixture of impulsivity, anger, hurt and a sense of rejection".
The judge said: "Every false allegation of rape increases the plight of those women who have been genuine victims of this dreadful crime."
He also said that to act in this "wicked way" can create doubts in the mind of the public and can be seen as an attack on the criminal justice system.
The Antrim Crown Court judge said it was a difficult case when it came to deciding what was a fair, just and proportionate sentence.
He said that while a sentence of six months, if not longer, would be justified, given the mitigating factors - such as her genuine remorse and the fact she was now a young mother - he said he would reduce the sentence to three months.