Three NI haulage firms lose licences over illegal fuel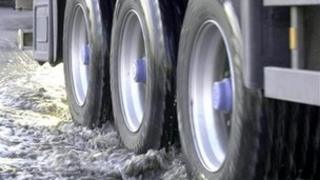 Three Northern Ireland haulage firms have lost their operating licences after government regulators found they had used illegal fuel.
Licences were revoked from Padraig Daly, of PD Refrigerated, County Tyrone; Kevin Peter Johnston of Johnston Tipper Services, County Londonderry, and Wadsworth James Bethel, of Banbridge, County Down.
It followed three separate inquiries by the Department of the Environment's Transport Regulation Unit (TRU). It is investigating almost 30 other cases.
The unit was set up last year to regulate the operators of goods vehicles in Northern Ireland.
Disqualified
In a statement, a spokesperson for the department said the TRU inquiries considered evidence against the three firms of illegal fuel use "and other infringements under the Goods Vehicle (Licensing of Operators) Act (Northern Ireland) 2010".
The evidence was supplied by the police and other agencies including Her Majesty's Revenue and Customs (HMRC), the Driver and Vehicle Agency (DVA) and the Vehicle and Operator Services Agency (VOSA).
Donald Armstrong, head of the TRU said: "There can be no place within the freight industry for the practices employed by these operators.
"It is completely unacceptable that people break the law to gain competitive advantage over those who abide by the rules.
"It will not be tolerated and must be discouraged. That is why we have introduced these powers and will continue to use them," Mr Armstrong added.
In addition to having their licences revoked, the three owners of the haulage firms were also disqualified from holding or applying for an operator's licence for between three and five years.
'Competitive advantage'
The enforcement action against the firms was initiated by HMRC.
The department's statement said the TRU is currently "considering the licences of nearly 30 other operators using tachograph interrupter devices, and a range of other illegal practices to gain competitive advantage".
Almost half of the cases involve allegations of illegal fuel usage.