Belfast car bomb: Reaction to city centre disruption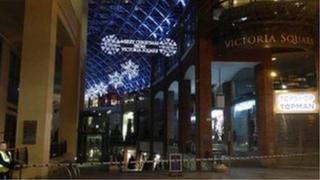 An attempted car bomb attack in Belfast city centre has been widely condemned.
Police have said the bomb contained 60k (132lbs) of home-made explosives.
Shoppers at Victoria Square and nearby residents had to be evacuated overnight and there was traffic disruption throughout much of the city centre.
Peter Robinson, NI first minister
"People are appalled at the mentality of people who carry out these kind of activities.
"They have learnt nothing from the past. They don't realise that this community wants to move on. We're working together, we're moving forward yet there are still some people out there who would seek to drag us back.
"They won't be successful, they won't break up what's going on in Stormont, they won't change the mind of our community and all they do is destroy the prospects people have of employment, of enjoying their life, and damage trade in Belfast and the surrounding areas.
"We are absolutely determined to stand against these people, to speak against these people and we encourage everybody if they have any information at all to give that information to the PSNI and indeed, if they see anything suspicious going on, anything that's out of the ordinary, to contact the PSNI so that we can put these people where they should be - behind bars."
Martin McGuinness, NI deputy first minister
"I believe that this bomb attack has to be unreservedly condemned for the futile act that it was. The reality is, that it isn't going to change anything.
"It's not going to break up the institutions, it isn't going to undermine the political progress that has been made in the course of recent years, and the interesting thing is that two cities at the minute, appear to be bearing the brunt of these attacks - Belfast and Derry - places that have been transformed.
"We get visitors coming here all the time who have been here maybe 15 or 20 years ago, and they can't believe the change in both Belfast and Derry, and here we have a situation where a tiny number of people who are totally disconnected from local communities think they have the right to engage in these sorts of anti-people activities.
"We need to see people in communities making it clear to the extremists, whether they be so-called republicans or so-called loyalist extremists, that those days are over - that we want to move forward and we want to build a future for our children."
David Ford, Justice minister
"Those responsible for this attack have shown a total disregard for life, including that of the driver they forced to carry the device.
"They also have a disregard for the people of Belfast. Had the device exploded en route it could have caused untold death and injury. Thankfully little damage was caused and there were no injuries.
"The people responsible for this attack have nothing to offer and it is time they realised that Northern Ireland has moved on from the dark days of our past."
Theresa Villiers, NI Secretary of State
"This was a reckless and callous attack on the people of Belfast which could have put many lives at risk.
"Families have been forced out of their homes and commuters delayed in their journey to work by this attempt to attack ordinary people going about their daily business.
"As they start the festive season, local businesses and the wider economy are being held to ransom by the actions of these terrorists. They must stop. The people behind this attack want to drag Northern Ireland back to the past.
"Northern Ireland deserves so much more - there is no support in the community for the disgraceful activities of these terrorist groups."
Máirtín Ó Muilleoir, Lord Mayor of Belfast
"We're a very resilient community building for a very successful Christmas. We shouldn't be intimidated or frightened by those behind this bombing.
"We have a united people. There is a small minority who want to destroy Christmas and they're not going to succeed.
"Yes, this created a disruption but I think we as a people, those who believe in Belfast, can't be deflected. The last thing I would like to see is that this would wreck Christmas, not only for our children but for the whole city centre. It's another challenge but we will rise to that challenge."
Gregory Campbell, Democratic Unionist MLA
"Had this device gone off with its full ferocity, there could have been a significant degree, not just of damage to property, but of loss of life.
"Some day soon, some time, this is going to work for those who set out to either kill people or make maximum impact on our economy. It is going to work and then we are all going to get a massive wake up call.
"Either we continue to put up with this or as a united community we say we are not prepared to put up with this. These people need to get the message that they're not going to win."
Fearghal McKinney, SDLP MLA
"This was an attack on people and on the economy. These coming weeks are the most important in terms of Christmas trade for city centre businesses.
"Last night's actions are in stark contrast to the general celebratory atmosphere in the city centre as people prepare for the festive period.
"It's only good fortune that no one was seriously injured, or worse, and those behind this have nothing to offer. 40 years of violence proved that. People should not be deterred.
"Our strongest message to those who offer no agenda and only disruption and chaos, is to reject them and back our businesses."
Anna Lo, Alliance MLA
"There can be no justification for the reckless and mindless actions of those responsible for this bomb. We are very lucky that nobody was injured or killed.
"There is no place in our society for this type of violence. The public are opposed to the actions of those behind the recent bomb attacks and security alerts.
"This incident has again shown the dangers that the police and army technical officers face in order to protect the public. I would like to pay tribute to their courage and bravery."
Ross Hussey, Ulster Unionist MLA
"These are the actions of cowardly bullies and must be condemned by all right thinking people.
"This is utter madness which the vast majority of people in this society, from whatever political perspective will condemn unreservedly.
"They have nothing to offer but destruction and death and they must not be allowed to threaten the peace which the rest of us want and have worked so hard for."
Gerry Adams, Sinn Féin president
"There is no public support for these type of actions. The vast majority of people, north and south are fully behind the peace process.
"This has been evident in the outpouring of sympathy and love for the late Fr Alec Reid who was such a pivotal figure particularly in the early days of this process.
"There is no reason or rationale for the engaging in or promoting of violent actions. Those behind such utterly pointless actions must cease immediately."
Eamon Gilmore, Irish deputy prime minister
"I unreservedly condemn last night's car bomb incident in Belfast City Centre.
"It is nothing short of attempted murder, and comes in the wake of a number of recent incidents, all of which have been perpetrated by people who are without any political support and who have a reckless disregard for human life."
Anne Connolly, Policing Board chair
"The community really are sick and tired of the actions of dissidents and the widespread disruption that is being caused to people's lives and livelihoods.
"This latest device had the potential to cause death, injury and serious damage to buildings.
"The use of the 'proxy bomb' tactic in recent days is concerning and further evidences the complete lack of care these people have for those who might get caught up in an attack."
Paul McMahon, Belfast Chamber of Trade and Commerce president
"The business people of Belfast are doing everything they can to make our capital city prosperous and a welcoming place for visitors. A successful Belfast will bring rewards to the entire community of Northern Ireland.
"Unfortunately there are people from different sections of the community who want to take us back to the bad days.
"We would appeal to these people, whatever their political aims, to think about the future of Belfast, the protection of jobs and the overall economy of Northern Ireland."