Peter Robinson calls for Belfast parade not to impact traders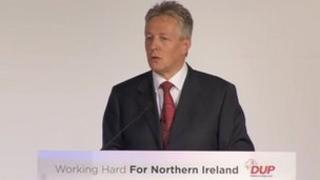 The DUP leader Peter Robinson has called on those taking part in a parade through Belfast city centre next Saturday to protest in a way which causes the least damage to traders.
The parade comes days before the first anniversary of Belfast City Council's decision to restrict the flying of the Union flag at city hall.
It is going ahead on one of the busiest shopping days for traders.
Mr Robinson said he did not want to see damage being done to the economy.
He said he was sure the organisers felt the same.
"It is a legitimate right of people to protest to show that one year on that they're still opposed to the flags decision of Belfast City Council, but I ask them to have their protest in a way that does the least possible damage to the traders of Belfast," Mr Robinson told the Sunday Politics show.
Organisers have applied for up to 10,000 people and 40 bands to take part.
The Parades Commission has imposed a number of restrictions.
The commission has ruled that the parade should be finished at its main assembly point of city hall by noon, and should be clear of the North Street/Royal Avenue junction by 12:30 GMT.
The organisers, the Loyal Peaceful Protesters, have also been told to provide adequate stewarding, and that there should be "no undue stoppages or delays" once the parade is in progress.
The commission said it came to its determination after representations from traders in Belfast city centre, and from the hospitality and tourism industries.
Following Belfast council's decision in December 2012 there were regular protests and some disturbances in the city and throughout Northern Ireland for a number of weeks.