David McNarry critical of 'shoddy' unionist leadership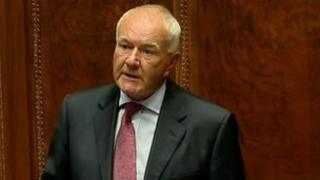 The leader of the UK Independence Party in Northern Ireland said unionist leadership was "shoddy, complacent and out of touch".
He said the five executive parties were in a "cosy coalition" where "there is little or no government happening and decisions are perpetually postponed".
Mr McNarry is UKIP's sole MLA.
Kilkeel councillor Henry Reilly is the party's only other elected representative in Northern Ireland.
The party now has more than 300 members in the province and 50 people have indicated they may be willing to run in the next council elections in 2015.
UKIP's regional organiser, Brian Hugginson, said he was confident the party would field candidates in every council area.
Mr Reilly will run for UKIP in the European Parliament elections next year.
UKIP currently has 13 MEPs in the rest of the UK.