Peter Robinson condemns union flag protest violence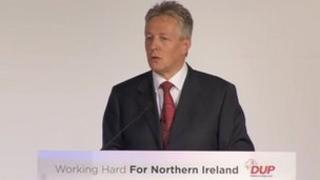 The DUP leader Peter Robinson said "one of the greatest tragedies" of the last year was the violence surrounding the union flag protests.
Mr Robinson was addressing his party's conference in County Down on Saturday.
He said most unionists remained "appalled" by Belfast City Council's controversial vote to only fly the union flag on designated days.
He added that they were also "disgusted" by the attacks on police that followed.
"One of the greatest tragedies over the last year is how legitimate protests descended into violence and economic destruction," Mr Robinson said.
"It was not only morally wrong, it was self-evidently counter-productive.
"Support drained away from a genuinely good cause when the trouble started.
"Those who orchestrated the violence sabotaged a sound and just cause."
Earlier this month, police said 560 people had been charged or reported in connection with flag protests in Northern Ireland.
'Legacy of the past'
The DUP leader also said he was unsure if agreement on a way forward on the past could be achieved but said people "must not be re-traumatised in the future".
He said the last year had shown that Northern Ireland continued to "live with the legacy of the past".
Mr Robinson added that decades-old events continued to "haunt" victims "on a daily basis" and they deserved justice.
"We must move forward on the clearest possible terms. There can be no distinction between terrorism today and terrorism in the past," he said.
"There can be no distinction between violence by loyalists and violence by dissident republicans.
"I know from speaking to victims first-hand that events, now decades old, still haunt them on a daily basis.
"For them it's not about the past - it's their present and it's their future. One cannot fail to be moved by the suffering they have endured."
'No final decision'
Mr Robinson failed to be drawn on whether the DUP would run a second candidate in the European elections next year.
Current MEP Diane Dodds has already been reselected to run.
"We won't take a final decision on this until the New Year. When we do it'll be on the basis of what's right for unionism, not just what's right for the DUP," he said.
The annual DUP conference got underway at the La Mon Hotel on Friday.
The party's deputy leader Nigel Dodds criticised Gerry Adams, accusing the Sinn Féin president of selective amnesia over the Disappeared.
Nelson McCausland expressed frustration about Sinn Féin's "procrastination" over welfare reform.
The social development minister talked about exploring the possibility of setting up a "People's Bank" to combat loan sharks and pay day loans.
Health Minister Edwin Poots promised to crack down on inappropriate use of the NHS by patients from the Republic of Ireland or further afield.
The DUP is the biggest party in Northern Ireland and the fourth largest at Westminster.