Parades Commission fails to get DUP conference invite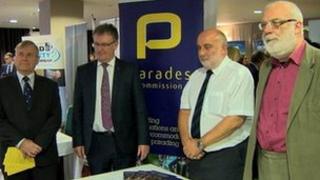 In a reversal of fortune for the Parades Commission, its way has been barred - by the DUP.
The body that unionist politicians want to see abolished applied for permission to take its place among exhibitors at the annual conference of the biggest unionist party.
While it wouldn't have been a traditional - or comfortable - route for a parades commissioner to take, the option's no longer open to them.
As part of an outreach programme, the commission has already appeared this year at the conferences of Alliance, SDLP, NI21 and even the Ulster Unionists.
But it won't be at the DUP's - a commission source claimed it never received a reply.
"We requested space at the conference, but we haven't heard back yet," said the source.
But another source close to the commission claimed: "It's obvious the DUP didn't want them (the commission) about the place."
They may be right.
A DUP spokesman told the BBC: "That commission has got it's P45 and is on the way out and we welcome that."
The Parades Commission began the policy of attending party conferences in March when it took a stand at the Alliance event.
They appeared at the Ulster Unionist conference in October when the party leader Mike Nesbitt posed for a photograph with the commissioners who were present.
He explained his decision at the time saying: "I think it's a good thing for a unionist leader, or any political leader, to engage with everybody who has a part to play in the future of Northern Ireland and, whether you like it or not, at the moment the Parades Commission has a future role to play in Northern Ireland.
"You know I would like to see it replaced and you know that's on the agenda for the Haass talks, but that is no reason not to show civility to people who want to come and engage with a political party."
But it seems conference engagement between the commission and the DUP will have to wait.