Col Bob Stewart and Nuala O'Loan call for 'Army killings' investigation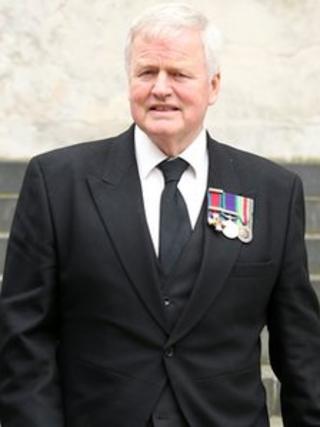 There have been calls for a police investigation into claims that a secret Army unit in Northern Ireland shot unarmed civilians in the 1970s.
The MP and former Army officer, Col Bob Stewart, and ex-police ombudsman, Baroness Nuala O'Loan, both said the BBC revelations should be investigated.
Three former members of the Military Reaction Force (MRF) told the Panorama programme they had been tasked with "hunting down" IRA members in Belfast.
The MRF was disbanded in 1973.
The former MFR soldiers, who were speaking publicly for the first time, told Panorama that on some occasions they opened fire on targets in the streets of Belfast without actually seeing the person they shot holding a weapon.
"If they needed shooting, they'd be shot," one of the soldiers told the programme.
They also said they believed they were combating terrorism and claimed the MRF unit had saved many lives.
The Ministry of Defence said admissions by soldiers that they sometimes operated beyond the law will be referred to the police.
Col Stewart, who served as a Army officer in Northern Ireland during the Troubles, said he was "saddened" by the claims made by the soldiers.
"Clearly, if these guys are telling the truth, it means that some elements in the British Army have acted outside the law. I was in Belfast and in Londonderry in 1970 and I worked, on and off, for 30 years in the Army in the province and I didn't have any real contact with such people.
"Although in 1978 I was the intelligence officer in Derry, or Londonderry, for about seven months, and then I did actually operate with people in plain clothes, but no-one did such things as were alleged on this Panorama programme last night," he added.
Col Stewart said he had "no idea that anyone would operate outside the yellow card rules", referring to the Army's regulations stipulating when a soldier can open fire lawfully.
Under the rules, a soldier may fire if he perceives himself, a colleague or civilian, to be in imminent danger, but only if the soldier can identify a weapon and only if there is no other way to deal with the threat.
Col Stewart, who is now the Conservative MP for Beckenham, served six tours of duty in Northern Ireland.
He said that in his own experience, the yellow card rules were "applied rigidly".
"On occasion my own soldiers just refused to fire because there was a danger of civilians, children, women and men who were not involved being hurt," he added.
"There was a huge inhibition for opening fire, so these people are not someone I would have come into contact with. I can't even think that I ever heard of them. There were some rumours but that was it."
Col Stewart told BBC Radio Ulster that he supposed it was possible that the "British Army was so totally unprepared that it did things wrong in those early days".
But he said there was no justification for the claims made by the former MRF soldiers.
"Not if you're a servant of the state. You must apply the rules of the state and if you don't, you become like the terrorists themselves".
Col Stewart added that he believed that the allegations should now be pursued by the authorities.
"I totally disagree with any idea that someone who has acted outside the law should be forgiven, despite the passage of time."
He added: "I'm not the sort of person that's going to say 'no we should draw line on it'. If you have acted outside the law and you have murdered anyone, it's particularly abhorrent if you are actually wearing - they say they weren't wearing uniforms - but they were soldiers".
Baroness O'Loan, who served as Northern Ireland's first police ombudsman from 2000 to 2007, said the families of those targeted deserve answers.
"Families who have, for 40 years, wondered how did it come about that their loved ones were shot by the military and yet no-one was brought to book and the facts maybe didn't add up, that they were told, and there were allegations of people having guns when they clearly and manifestly didn't have guns - I think those families have the right to know what happened."
During her tenure, Baroness O'Loan carried out high-profile investigations into allegations of security force collusion in civilian murders.